Club Regular
Posts: 68
There are PLENTY of threads, and reasons to do some of these modifications, but I figured I'd indulge some of you with the gory details: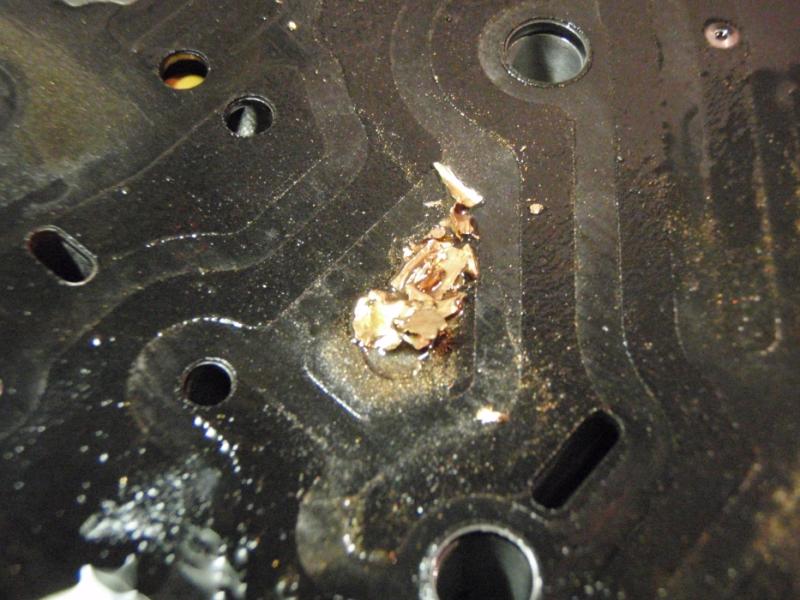 [Crazy_Old_Prospector's_Voice] "D'ere's Gold in dem dar valve bodies!" [/voice]
This is what happens when you experience a "servo failure" and it shows up as the infamous "2-3 flare". One thing I noticed REAL quick is that the transmission is very picky about getting a constant supply of
warm, clean fluid
.
Since the warranty is days away from running out, I decided to do some modifications to make fluid changes easier, keep the fluid from overheating, and pull out some of the "nasties".
Theory:
We know from specs that the trans filter is little more than a screen that stops 120+ micron pieces, and oil filters can stop 10-20 micron. Some sources state that a piece of debris 30 microns in size can jam a solenoid.
***If you have a stock valve body, the oil ONLY flows when the fluid temp is over 150*f leaving the torque convertor (according to Sonnax), so during initial start up and during cold weather operation, an external filter will be cleaning less than half the time.
- See below for the thermostat bypass mod and external thermostat
, this will allow for "Full-Flow" filtering. If you have the Sonnax mods, you get increased cooler flow at idle (cold and warm), but the Superior kit bypasses this T-Stat.
Mazda Service Bulletin 05-014/06
states:
Automatic Transmission (A/T) oil cooler/lines must be power flushed completely before an overhauled or
replacement A/T is installed. One of the causes of repeat A/T failures is an internal automatic transmission fluid
(ATF) restriction at the inlet side of the oil cooler. This restriction is usually caused by an ackrispy cremeulation of metal
particles and debris (from a previous A/T failure) on the internal mesh type baffle of the oil cooler. Power flushing
will remove the restriction by back flushing the cooler/lines followed by forward flushing. This will in turn
ensure full ATF flow for the transmission when it is operating.
Ford Service Tips 00-23-10
; says it best:
Contamination from prior transmission concerns or excess wear may be trapped in the transmission fluid cooling system. This debris must be removed by properly cleaning the transmission cooling system. After cleaning, some contamination may still remain. The remaining contamination may be reintroduced into the fluid cooling system of a repaired/replaced transmission causing premature or repeat failures.
Now, there are a hundred theories as to where and how to install the external filter, but let me make some points first:
If your transmission is dirty or has "grenaded" in the past, your lines, radiator and external cooler are contaminated - the end. If you do not replace these parts, there is a chance that contaminants will cause the very same issue. "But, what about power flushing?" I hear some of you ask… well, assuming it was done correctly (if at all), you still have an issue because most external coolers and some radiator heat exchangers are stacked plate coolers; meaning 100%
not
flushable. Yeah, not flushable.
Again,
Ford Service Tips 00-23-10
:
VEHICLES EQUIPPED WITH STAND-ALONE OIL-TO-AIR (OTA) FLUID COOLERS CANNOT BE PROPERLY FLUSHED.
The plates are parallel to each other ( |=| )and not in a series ( |_| ), so if one plate is clogged, the fluid has an alternate path - GREAT for cooling and fault recovery, HORRIBLE for reuse after a failure (despite what the bulletin may suggest).
Also, if you have new parts, they will be empty, and the system full of air. Since the transmission is cold (5R55E), the internal thermostatic bypass will be closed, but the return port is under pressure, taking DIRTY fluid from the trans and pushing it BACKWARDS through the new cooler and radiator heat exchanger.
- Anyone that has done the cooler line method of the transmission flush will tell you that fluid flows from both hoses when the engine is running.
Once the thermostatic bypass opens, it will run the fluid through the normal cooling loop. So, if you thought you could install a filter BEFORE the new radiator/cooler to keep them clean, it won't happen, but adding the filter
first
(
before
the coolers) could protect the new radiator/cooler after the trans has been replaced.
Now, if you don't want to replace the radiator, lines and external cooler, you can install an external filter AFTER the last cooler, and before the transmission return line. This will make sure any particles dislodged from "upstream" will not find their way back to the transmission. The filter mount is CLEARLY marked with an input and output (or arrows) to show the direction of flow, and this is critical because the filter has a backflow valve to prevent reverse flow past the filter. Should you get it backwards, fluid will not pass through the coolers OR the filter.
Remember, this will clean the fluid headed to the pan, but can not do anything about damage in the "first pass"; from the point of origin to the external or internal filter. It will keep this junk from going through the transmission a second time though.
Parts List:
This will vary, depending on your needs/wants. Most folks can get away with just adding the external filter kit using 3/8" barb fittings: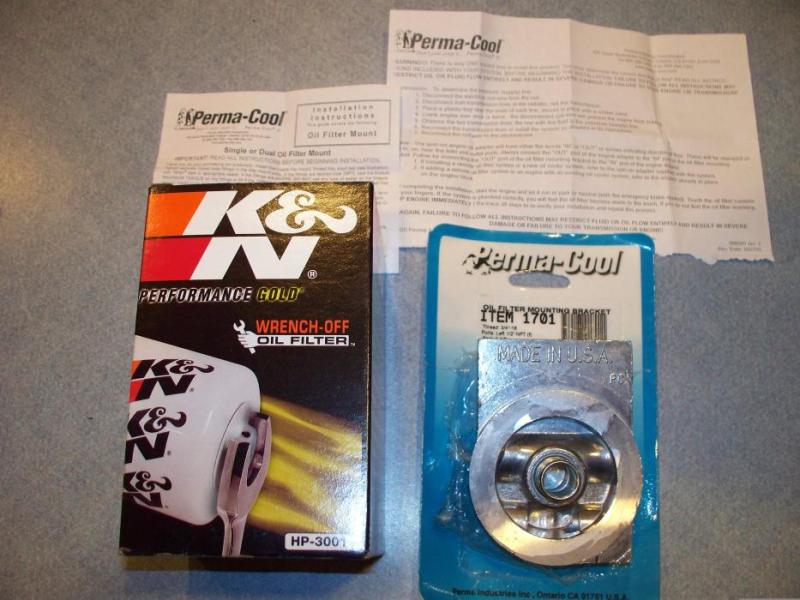 I chose the PermaCool 1701 Filter Mount based on the ½" NPT input/output, the ¾"-16 filter and the left hand input/output. I have an external cooler (different topic) that is also ½" NPT and I want standardized connections for everything to avoid confusion. Your needs will dictate your choice… "Made in USA" is a plus.
Installation: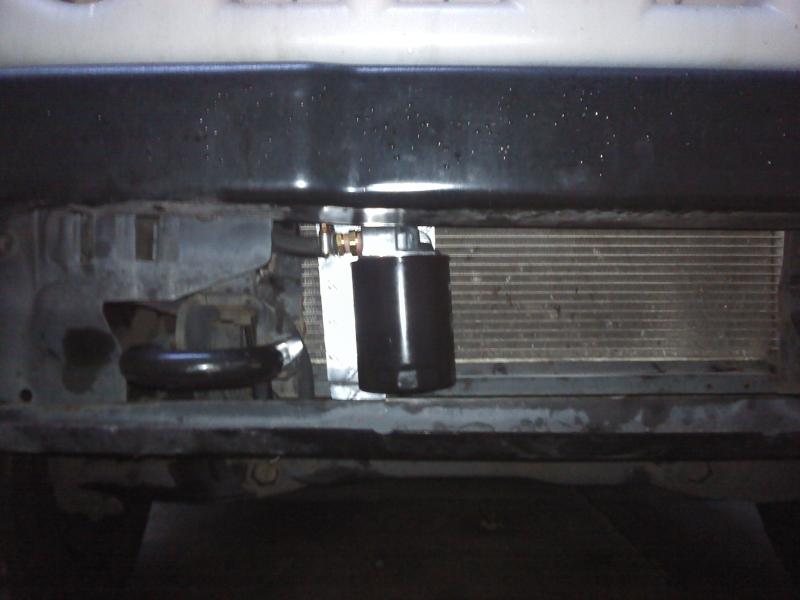 This is a temporary install using the existing plumbing to test the mount/position. The mount is made from aluminum diamond tread using the existing holes. I bent it using a homemade pan-brake (angle iron clamped to the work bench and a rubber mallet).
The
normal
fluid path is: Transmission > Radiator Heat Exchanger (Enter top, Exit bottom) > External Transmission Cooler > Transmission
This is something that you will have to verify on your end - there is no telling what has happened since your beloved ST has rolled off the assembly line!
The External Trans cooler is normally connected to the trans return line with 3/8" hose, pushed over and worm-gear clamped to the 3/8" tubing. You can use new hose to connect the return line to the filter output, then route the cooler output to the filter input using barbed fittings, 3/8" high temp hose and worm-gear clamps, or get stupid (like I am) and use -6 AN nylon braided hose, -6 AN fittings and 3/8" tubing to -6 AN adapters. Your choice, the options are limited only by your wallet. :grin:
Once routed, the mount should be bolted to something secure, and preferably so that the filter is vertical - to make for easier/less messy filter changes. Filter choice is based on a couple factors; the filter mount, available room and personal preference. Don't skimp, this requires a quality filter that can handle temps and pressure without leaking. I chose the K&N for starters. Make sure you add a quart of the
proper
fluid to the filter before spinning it on!
Start it up, check for leaks, check fluid level on dipstick, and test drive.
Over the next couple days, check for leaks and steady fluid levels to be sure nothing has changed.
Related Mods:
External Transmission Cooler
Upgraded/replaced hoses/clamps
Use AN fittings/hose
(See below)
2005 Explorer Sport Trac Adrenalin, 4.0L SOHC, 5R55E, 4.10 open, 265/70R17's, Volant Intake, X3 tuner.